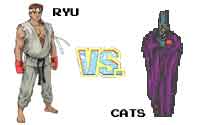 Sunday, July 28th, 2002
Poll 967
Division
West Division
Match #
28
Match Date
Sunday, July 28th, 2002
Vote difference
35,724
GameFAQs
Prediction
Ryu - 86.98%
(14,581 brackets)
2002 was CATS's biggest year for hype, simply because there was thought to be a chance for him to actually win at the time. Anyone who has ever been on this board during a CATS match knows exactly what was going on, so all that was left to do was to actually hold the match.
And once the match began, the fact that most of CATS's fanbase was comprised of people who hadn't ever played his game showed. CATS was beaten into a pulp, allowing Ryu to become only the fourth character all contest (but third in the span of six matches) to break the 80% barrier. It was a complete beating in Ryu's favor, but c'est la vie. CATS is unique in that no matter how badly he performs, he'll likely always remain in the contest as the quinissential humor nomination.
This match set up a Samus vs Street Fighter reunion special, and even though Ken got beaten pretty soundly, Ken is no where near Ryu's level. It was an intriguing match, to say the least.
Community content is available under
CC-BY-SA
unless otherwise noted.