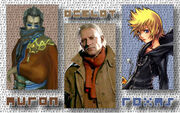 Round One

Tuesday, August 6th, 2013
This was never going to be much of a match, which made that ungodly horrible Ocelot picture all that much more prominent. It's the only thing anyone bothered talking about during this match. Even if you wanted to play mental gymnastics and think Ocelot could win because of Square overlap, that picture...... god.
I have paid no attention whatsoever to Metal Gear Solid 5 hype, but is the entire game that ugly? Seriously, all the amazing Ocelot pictures we could have had, and we get that.
Zen's (Late) AnalysisEdit
I have some choice things to say about Ocelot's pic here. I made it.
Everyone was really hyped about Snake and his friends' potential boost from the upcoming MGSV. That E3 gameplay demo was great. Everyone watched it. Everyone got hyped.
So I made a pic from the gameplay demo. I went frame-by-frame and picked out the best angle of Ocelot and rendered it myself. I touched up the scarf so that the red would be eye-catching.
And when the pic was revealed, people lost their minds. They couldn't believe Ocelot would get such a bad pic from the thing they said would be the reason he had a shot at winning! Now he had no shot at winning!!!!
To this day I still can't believe that of all the bad pics I've ever made this (and the really bad one @LeonhartFour is going to post at some point I fucking know it) is the one people give me the most shit for. Ironically, if a contest were to happen, say, in 2018, people probably wouldn't have a problem with me using this perfectly recognizable picture of MGSV Ocelot. I'm just a Picsmith Futurist. I will defend this pic 'til the day I die.
Ocelot never had any shot, and if anyone thought this pic made a character named "Revolver Ocelot," who is best known for being an old man in a beige cowboy coat with a red scarf, unrecognizable enough to bleed 3000+ votes from a potentially above-Auron level of strength, then they were out of their mind. I think Ocelot did pretty alright here.
The problem is just how strong Auron is. He really stomped Roxas, I'd say he was barely affected by his presence at all. Sure, he could have broken 50% without him easily, but he still looked good here. Again, people seriously thought Ocelot, the dude who lost to Pac-Man, could ride Roxas LFF to victory.
There's a dialogue going in Allen's sticky right now about who would win in a contest that is only post-2000 characters. It would probably be Auron. Dude is cool as hell. https://imgtc.com/i/ruqt1oQ.mp4
Also I really wanted to post this: https://imgtc.com/i/WNAA3vi.gif
Community content is available under
CC-BY-SA
unless otherwise noted.