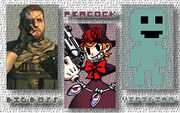 Round One

Friday, July 19th, 2013
This was such a weird match, even if it was a Big Boss blowout. First off, what in the world is going on in that match pic? I have no idea where that Boss picture even came from, and I'm a pretty big MGS fan. Viridian has like one picture, but he's facing the wrong way for the match pic. Awesome. And then you get some girl wielding a huge gun, looking like she wants to literally eat Big Boss for lunch. Ooooooo-kay. Skullgirls does honestly look fun, but those characters are damn weird.
As for the match itself, I've always been hesitant to call fodder upsets true upsets, similar to Valkyria Chronicles beating Disgaea in Game of the Decade. So few people are attached to VVVVVV or Skullgirls that no one really got upset or anything by Viridian upsetting his way into second place with a massive 450 vote win. Peacock attempted the most boring comeback ever at one point in this match before folding, and even then I'm not sure anyone cared. This was all about Big Boss crushing and people actually having heard what VVVVVV is. Not sure anyone knows Skullgirls beyond some internet voting-for-the-character.... thing. That subject had a topic on Board 8 for every vote and I couldn't tell you what it was, which might explain why Peacock lost.
Oh, and this match also made idiots like me who picked Luigi > Big Boss look especially stupid. I know Balthier and Jade are stronger than these two losers, but good grief. How I forgot about Ness being in that poll, I'll never know.
Zen's (Late) AnalysisEdit
oh snap, is that a Venom Snake pic for Big Boss?!?!?!? who is responsible for this egregious error????
Well, we couldn't have known.
This match was pretty cut-and-dry, I don't know how Peacock even got in seeing as people on GameFAQs seem to go out of their way to hate fighting games. Do they hate eSports as much as real sports?
It was nice seeing a Skullgirls rep get in. Maybe next time we can get in Valentine or Filia? Someone with boobs. All the other Skullgirls have boobs, I think. Except Beowulf.
oh, that's nice. that is very nice.
wait, I guess there's Big Band, too
mmmmmmmm
What was I talking about? Oh right, yeah, Big Boss cleaned up here. I don't even know what Captain Viridian is from. VVVVVV or something. I only know it cuz KP recommended some music from it to me once. Dope soundtrack. Good on Cap'n V for getting a win here, even if the character he's beating is really bottom-of-the-barrel.
Not much else to say here. I'm wrapping it up for the night, I gotta get up kinda early tomorrow. I'll post more when I get back from work. Nominate Metal Sonic!
Community content is available under
CC-BY-SA
unless otherwise noted.