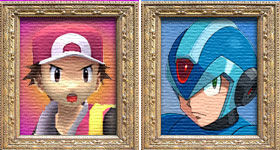 Wednesday, February 17th, 2010
Poll 3795
Division
Hyrule Division
Match #
66
Match Date
Wednesday, February 17th, 2010
Vote difference
17,352
Oracle
Expectations
Mega Man X - 60.52%
93 for - 3 against
GameFAQs
Prediction
Mega Man X - 46.24%

I don't care what KP says, that Red pic is awesome. Looking more hard than X is not easy.
Anyway, X winning this match was never going to be in question. How more than half of people didn't have X getting out of this fourpack is somewhat ridiculous, but then again casuals often bury their good picks with stuff like this. The thing to take from this match is Red being legit and Pokemon once again godstomping a board vote and ASV. Red and X were even for a couple minutes before X took off, and then Red went and rolled percentage during the ASV. The match was never in doubt or anything, but this was still a good performance from Red. He proved he was a legit, solid midcarder.
When you think about it, Red smashed pre-contest expectations. No matter what anyone says, people don't play Pokemon for the trainers and there aren't legions of people with a massive emotional attachment to this guy. And if you go back to 2007-2008, all the characters who had nothing but Brawl (Pit, Dedede, etc) all sucked in the polls. Yet Red, on nothing but Brawl, Pokemon avatar-ism and Pokemon momentum, won a match and impressed against X. This was just Pokemon's contest.
• Previous Match       • Next Match
Community content is available under
CC-BY-SA
unless otherwise noted.