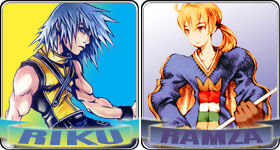 Saturday, February 6th, 2010
Poll 3772
Division
Midgar Division
Match #
43
Match Date
Saturday, February 6th, 2010
Vote difference
11,862
Oracle
Expectations
Riku - 62.73%
105 for - 0 against
GameFAQs
Prediction
Riku - 79.75%

Huge props to Heroic Mario for that Ramza pic. Making him look sharp is really tough.
As for the actual match, it wasn't quite as easy a win for Riku as some people expected, but still easy enough. FFT has a really weird strength to it, plus this was a night match. KH is awful at night, while Square usually does very well. Even still, Riku looked fine in this match and gave no indicators at all of his impending upset in round 2.
On a total side note, you people need to get Delita into one of these things. He's the one out doing all the dirty work and nailing hot princesses, while Ramza runs around trying to get his incest on while ignoring all of Ivalice's beautiful women. Explain to me how this makes any sense. Plus he runs around in those hideous buttpants.
• Previous Match       • Next Match
Community content is available under
CC-BY-SA
unless otherwise noted.