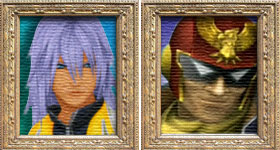 Saturday, February 27th, 2010
Poll 3815
Division
Midgar Division
Match #
86
Match Date
Saturday, February 27th, 2010
Vote difference
3,438
Oracle
Expectations
Captain Falcon - 47.12%
14 for - 79 against
GameFAQs
Prediction
Captain Falcon - 46.68%

For 4 years, Captain Falcon's fans have been saying he'd do well if given a fair chance. And it really did take 4 years for him to get that chance. He got stuck as an 8 seed against Crono in 2006, then had to deal with ridiculous Nintendo LFF in both fourways.
But in Winter 2010, there was no Nintendo in the way of Falcon making a good run and having a good contest. There was, however, one huge problem: a Kingdom Hearts character of presumably similar strength in a day match. HOWEVER, it was a day match on a weekend with a vastly diluted day vote. Falcon made the most of this, and took off with the lead after easily winning the board vote.
Riku was the favorite and the smart pick, and deservedly so because of this being a KH character during the day, but Falcon just totally punked him in this match. Riku never got his feet under him and looked pretty bad for getting 47.5%. Even the vaunted KH day vote did little for him, making it reasonable to think an ASV wouldn't have mattered here. He won very few updates all match, and updates he did win were scarce. Falcon win this convincingly, leaving no doubt at all about his legitimacy.
With Riku's loss, that left only Sora representing Kingdom Hearts. And that wouldn't go so well, either. KH just looked terrible all contest.
Match Trends
Edit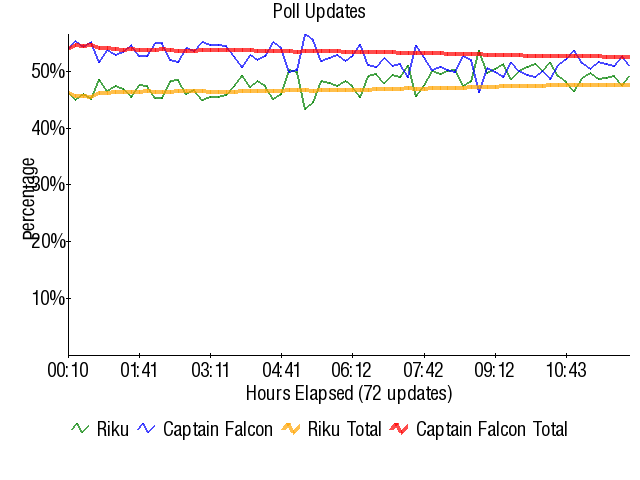 External Links
Edit
• Previous Match       • Next Match
Community content is available under
CC-BY-SA
unless otherwise noted.