Thursday, February 25th, 2010
Poll 3811
Division
Varia Division
Match #
82
Match Date
Thursday, February 25th, 2010
Vote difference
13,984
Oracle
Expectations
Sub-Zero - 58.56%
90 for - 2 against
GameFAQs
Prediction
Sub-Zero - 30.84%

This contest had a few hard-to-see underdog runs that made it to round 3 and beyond, and Sub-Zero was one of them. A lot of people complained about this contest being too predictable one the final rounds came about, but look at the prediction percentages up to and including this match. The Zard, Vivi, and Ryu H all had really low percentages to get into round 3, and then you had a few people like Sub-Zero with only slightly better percentages.
The odd thing here was how Tidus/Sub-Zero had such low percentages over a duo like Roxas and Heavy. Really, Roxas and Heavy were beating Tidus or Sub-Zero? Whatever. This was never going to be a close match, though one has to wonder how KP made Roxas -- freaking Roxas -- look more badass than Heavy and Sub-Zero. Someone build this guy a house or something.
On top of that, Roxas got to shave off some percents during the vaunted Kingdom Hearts ASV. A 59-41 beating is still a beating, but take a close look at this match. This could very well be the one bright spot for Kingdom Hearts all contest.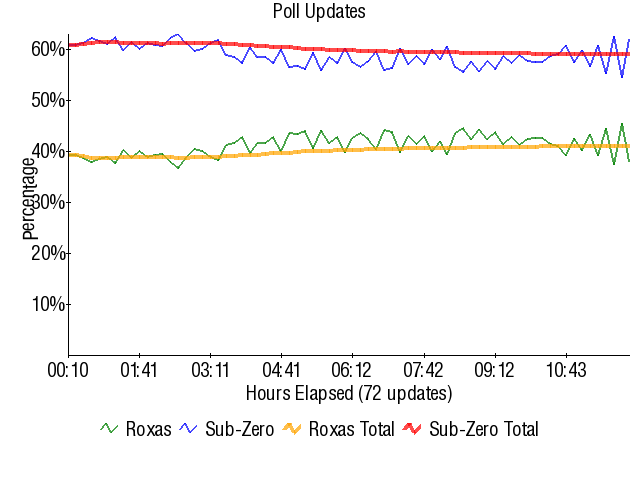 • Previous Match       • Next Match
Community content is available under
CC-BY-SA
unless otherwise noted.