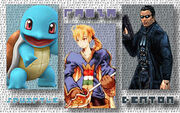 Round One


Sunday, July 28th, 2013
At least we didn't have to wait until round 2 to compare Squirtle to Dante. We only needed 12 hours and a little common sense to see what was coming.
What would you rather have, 70% on Laharl or 64% on Ramza? I'm pretty sure Ramza would kick Laharl's ass in any contest setting. People tried pointing to the 2008 contest involving Ramza and Dante in a match (http://board8.wikia.com/wiki/Dante_vs_Hogger_vs_Laharl_vs_Ramza_Beoulve_2008) to defend Dante's position here, but that was a different time. That was before DmC happened, before Pokemon started running roughshod over our contests, and before Dante's reputation as a huge choke artist. Dante is at a weird place right now; he's a strong character, but no one will ever pick him in a remotely debatable match ever again.
To be fair, this wasn't really Squirtle-gone nuts either. Squirtle would end up beating Cloud this contest. Would you have known that only look at this match? I doubt it. It took some momentum to pull that one off, but I maintain that Squirtle > Dante was easy to see coming from day 1.
Zen's (Late) AnalysisEdit
JC Denton finally gets a second shot in a contest setting and gets paired with a Pokemon and a fan-favorite Final Fantasy character.
https://www.youtube.com/watch?v=Cuf9dM_LgCs
Ramza's since been in a Dissidia game or two, in 2018 he'd probably still do OK. It's not like he impressed here or anything and he did get doubled by a cartoon turtle, but at least he didn't lay down and die. People were expecting much worse of a blowout, which lead to people still championing Dante > Squirtle in R2 as if DmC and Pokefear didn't exist.
Another note on the pic side of things: This is one of the first appearances of "anonymous" being credited as the contributor of a pic, AKA "we submitted nothing but shitty meme pics so Allen had to make one himself." In this case it was for Squirtle.
I think all the Picsmiths submitted for Squirtle were anime pics of him wearing his Kamina sunglasses as if he needed even more help. Sometimes I think sometimes we get too caught up in seeing what we can get away with instead of thinking what's best for the contest.
Community content is available under
CC-BY-SA
unless otherwise noted.