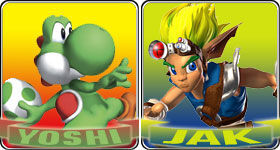 Sunday, February 14th, 2010
Poll 3788
Division
Jenova Division
Match #
59
Match Date
Sunday, February 14th, 2010
Vote difference
25,825
Oracle
Expectations
Yoshi - 68.99%
104 for - 0 against
GameFAQs
Prediction
Yoshi - 86.21%

Jak is one of those widely-known characters where most people have played his games and like him, but for whatever reason they don't vote for him. He's in that whole 3d platformer group of Crash/Ratchet/Jak/Dexter/Clank/etc where everyone likes him but there's no strength from the group whatsoever.
Worse yet, the dude got stuck being paired against Yoshi in round 1. Ed Bellis picked this as his upset special on one of the contest podcasts, which is definitely a contender for the Ed Bellis Award for Excellence in the Field of Ed Bellis. For the rest of us, this was an easy gimme match.
It was also a very boring match with no trending at all. Yoshi stayed at 76.6 for almost a full 12 hours.
• Previous Match       • Next Match
Community content is available under
CC-BY-SA
unless otherwise noted.