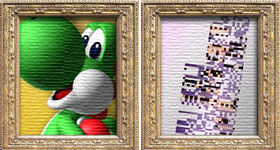 Wednesday, March 3rd, 2010
Poll 3823
Division
Jenova Division
Match #
94
Match Date
Wednesday, March 3rd, 2010
Vote difference
2,348
Oracle
Expectations
Missingno - 52.28%
68 for - 22 against
GameFAQs
Prediction
Missingno - 14.06%

After Missingno upset Crono, people assumed he would roll through Yoshi before taking some massive 2000 vote lead on Sephiroth with the early bandwagon vote.
Wait, really? Even if Missingno won against Yoshi (which was no guarantee), there was no possible way it would have been some blowout. Yoshi has proven twice he's the fan favorite of the Mario series:
http://www.gamefaqs.com/poll/index.html?poll=634
http://www.gamefaqs.com/poll/index.html?poll=2328

Hold that same poll tomorrow and you probably get the same result a third time. People love Yoshi, and rallying against him would be extremely difficult for Missingno to pull off. Mario in general is the ultimate anti-joke kryptonite. If you swap Missingno and Prinny in this bracket, no one would question a potential third-round match between Mario and Missingno. The hype here came from Missingno being in a division full of characters easy to rally against.
The one roadblock really to hard rallying in this division was Yoshi, for reasons already stated. When the poll began, this was proven tenfold. Yoshi took a small early lead, which almost never happens against a true bandwagoned, rallied joke. He then held that lead for more than two hours, and it never got bigger than 200 votes. If Missingno truly was the next L-Block, no character would hold a small lead for very long on him. There would have been deathblow "You come into OUR HOUSE, you get yo' behind KICKED" rallying all over the internet.
Everyone knows what happened next. After getting the lead down to 55 votes, Missingno fired off six killshots in a row aided by rallying and the Pokemon ASV. The 6 Missingno update wins following 2:40 p.m. EST: 79 votes to take the lead, then 56, 123, 63, 70, and 65. Ballgame. Missingno slowed down a lot after this, but caught the full weight of the Pokemon ASV and put the match away for good.
Contrary to popular belief, Missingno didn't catch some joke rally to win this match. He won for one major reason a lot of anti-Pokemon and anti-joke people refuse to accept for whatever reason: Legitimate strength. Past maybe Missingno taking the lead, the chart here is very consistent and even. You know, the exact opposite of a joke trend.
Missingno is legit and Pokemon is awesome. Deal with it, haters.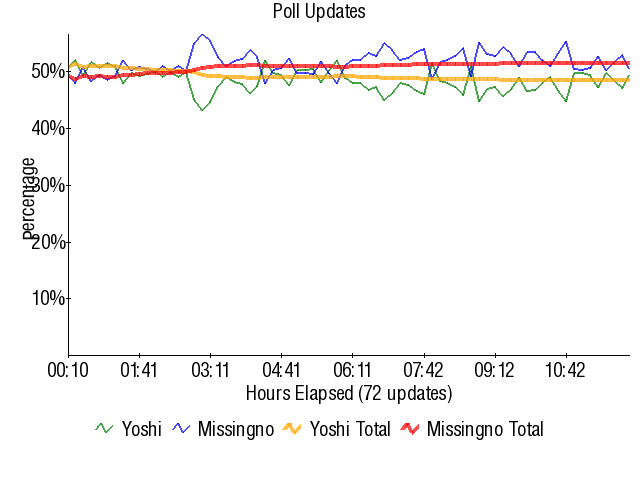 • Previous Match       • Next Match
Community content is available under
CC-BY-SA
unless otherwise noted.