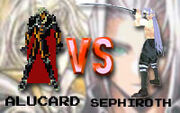 Monday, August 25th, 2003
Poll 1358
Division
South Division Semi Final
Match #
54
Match Date
Monday, August 25th, 2003
Vote difference
49,648
Oracle
Expectations
Sephiroth - 69.98%
48 for - 0 against
GameFAQs
Prediction
Sephiroth - 70.89%
(29,105 brackets)
I doubt one single person actually cared about this match as it was happening, and why would they? This took place directly after Mario/Crono II, and you can guess what people chose to discuss given that Sephiroth blowing Alucard away was to be expected.
The only thing to really be drawn from this match is that Alucard faced Cloud in 2002, and Alucard actually did better against Cloud than he did against Sephiroth: http://www.gamefaqs.com/poll/index.html?poll=989
Then again, this match took place at a time when a lot of people still believed that Sephiroth was stronger than Cloud was, so Sephy doing better than Cloud didn't come as much of a surprise. The issue is that this gave us a lot of insight into the upcoming Mario/Sephy duel. If Mario = Cloud, and Sephy performs 2.5% better than Cloud against a common opponent, wouldn't this mean that Sephy was in line to beat Mario?
Not many people bothered looking at the numbers for this, however. They were all out for blood after what had happened to Crono, and Mario/Sephiroth quickly turned from a debated match into Mario versus the world. Again. People obviously weren't yet aware that Mario didn't need the revenge voter's help, though it couldn't hurt. Mario/Crono/Sephy was once a debated trio. It turned into Sephiroth being the fairly obvious favorite going into the divisional final.
External Links
Edit
Community content is available under
CC-BY-SA
unless otherwise noted.