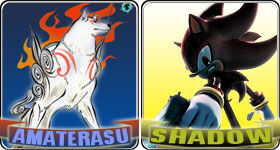 Round One

Monday, January 18th, 2010
Poll 3734
Division
Hyrule Division
Match #
06
Match Date
Monday, January 18th, 2010
Vote difference
4,142
Oracle
Expectations
Amaterasu - 46.93%
38 for - 77 against
GameFAQs
Prediction
Amaterasu - 36.27%

I think this sums it up well enough:
From: CrocNRoll | Posted: 1/18/2010 2:30:00 PM | #273 From how the contest is going, the match picture might as well look like this: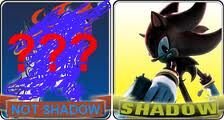 This was a debate very similar to Alucard vs Magus, with a lot of people picking Shadow on psychological barrier alone. For whatever reason, people still can't get past the 2003 Mario/Shadow match being an absolute fluke. What you're left with since is a character falling more and more off the map every year, against a character in Amaterasu who very easily passes the eye test. In all her contest appearances, including this one, she outperforms expectations.
And to go a bit deeper on Shadow, throw out the fluke match and look at everything else:
2003: Beat Wario.
2004: Lost to Tidus.
2005: Doesn't get in.
2006: Doesn't get in.
2007 R1: Distant second place against Auron, pre-RE5 Chris Redfield and Pyramid Head.
2007 R2: Distant last place against Auron, Ryu and Bowser.
2008: Third place against Link, Luke von Fabre and Zidane.

There is nothing in there to inspire any confidence at all, and Shadow went out against Amaterasu and further cemented his status as a choke artist. Amaterasu went out and won fairly easily, in a match that only looks close on paper. The lead was 1000 within 2 hours, and Shadow didn't win a single update until 3 hours in. Not that it mattered, since this was a boat race. Most impressive is Amaterasu did this during a day match, where Sonic Team tends to be at its best. Remember, it was a massive ASV that allowed Sonic to pull off that huge comeback against Crono.
This match began the massive anti-Sonic hype this contest, and it wasn't until future results started rolling in did people look back and acknowledge Sonic Team as not being that bad. They're not at their god-awful 2008 4way levels, but they're not threatening Samus either. Somewhere in the middle. To be fair, Shadow isn't altogether bad in these things, and is probably a victim of simple bad luck. But if he wants to get some respect, he needs to start turning these close losses into close wins.
And I have just the cure for that! Winter 2011: (8)Magus vs (9)Shadow the Hedgehog.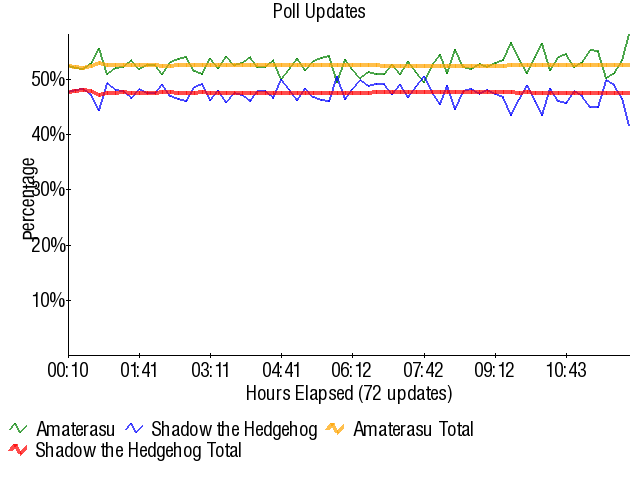 • Previous Match       • Next Match
Community content is available under
CC-BY-SA
unless otherwise noted.