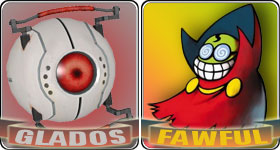 Friday, January 22nd, 2010
Poll 3743
Division
Chaos Division
Match #
14
Match Date
Friday, January 22nd, 2010
Vote difference
19,791
Oracle
Expectations
GLaDOS - 56.41%
106 for - 8 against
GameFAQs
Prediction
GLaDOS - 73.68%

GLaDOS IS NOT A JOKE CHARACTER.
GLaDOS IS NOT A JOKE CHARACTER.
GLaDOS IS NOT A JOKE CHARACTER.
GLaDOS IS NOT A JOKE CHARACTER.

Ahem.
Seriously, stop lumping GLaDOS in with joke characters when talking about inanimate objects and such. Portal is like 18 cents on Steam now and 2 hours long. Go play it, stop being ignorant and come back later.
For the rest of you, the highlight of this match was probably the picture. These are two of the most unphotogenic characters on the planet, but we ended up with a great pic here. No one had thought to use one of GLaDOS's cores in a picture before, and Fawful didn't look all that awful (rofl) for once.
As an actual match, this thing was over in seconds and had some pretty terrible vote totals for being a day match. GLaDOS started out near 70%, fell down to a doubling later and scored a very easy win in what some considered a hyped match. As strong as Nintendo can be, they too can produce total cannon fodder characters now and then.
A few people complained about joke characters doing too well in yet another contest (including Ngamer repeatedly ignoring my request to play Portal so he can stop looking silly on the podcast, people don't constantly say GLaDOS isn't a joke character for no reason), although I hesitate to use the term "people" when discussing those who haven't played Portal yet.
Match Trends
Edit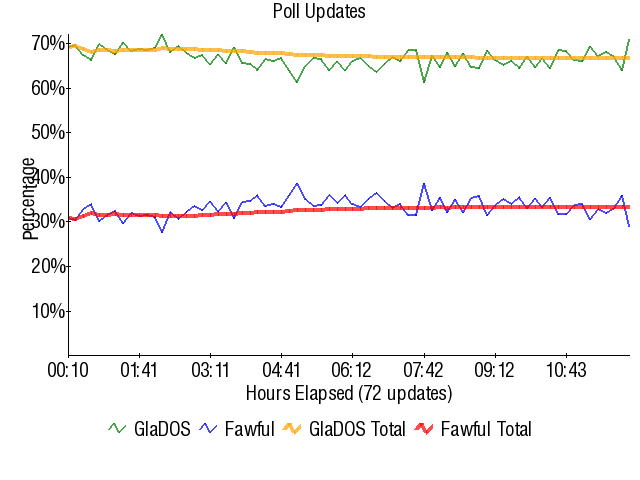 External Links
Edit
• Previous Match       • Next Match
Community content is available under
CC-BY-SA
unless otherwise noted.