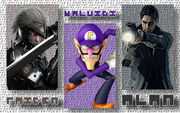 The only entertaining part of this match was the picture, because once giant-ass purple Waluigi stuck out like a sore thumb, the debate went from whether Waluigi or Alan Wake would get second place to whether Waluigi could actually upset Raiden for first.
As it would turn out, there never should have been a debate on either front. Waluigi got some joke votes early, and I'm sure 4chan got involved in some way, but it was a completely negligible boost. It wasn't long at all before Raiden put this match out of reach, and Waluigi was never going to be threatened for second place because no one cares about Alan Wake.
A running joke of this contest is GameFAQs not playing any games after like 2006, and it held true more often than not when it came to weeding out 162 characters from round 1.
Zen's (Late) Analysis
Edit
Alan Wake is literally just "white dude plaid shirt" holy shit. I've never played his game but I saw my friend playing it once and it looked alright. I think those devs made that game, uh, Quantum Break. That's the name? Right? Is the protagonist also a bland white dude?
https://imgtc.com/i/hPSVYyy.jpg
is that fucking Iceman? what the hell happened to you? X-Men 3? good excuse
https://gadgets.ndtv.com/games/news/microsoft-not-interested-in-alan-wake-and-quantum-break-sequels-remedy-1885726
shit just keeps getting sadder.
Anyway, Alan Wake showed up, yeah, but the real match here was Waluigi vs Raiden. I remember there was a tiny bit of debate as to whether or not Waluigi could be the next L-Block or something, but nobody was super serious about that.
Fast forward to 2018 and people are super serious about that, but more in a Draven context than L-Block. Poor Sakurai has to endure all this harassment because he doesn't put Wario's doubles partner in a video game representing Nintendo's all-stars. Christ, Waluigi is even on ice skates in his match pic.
Raiden was coming off of (cult?) smash hit Metal Gear Rising: Revengeance, which still has a huge legion of fans. He didn't exactly impress against Waluigi, and if this match had happened now, it might have been much tighter.
What can we expect from Waluigi this year? Well it depends on the anti-rallying measures Bacon puts in place, but I guess he could get a big push from 4chan and reddit. I think people are over the initial outrage of his snubbing from Smash 5, so it would be hard to stir up the pot again unless a portion of tomorrow's Nintendo direct is pre-recorded footage of Sakurai taking a dump on a picture of Waluigi while looking straight into the camera.
Community content is available under
CC-BY-SA
unless otherwise noted.