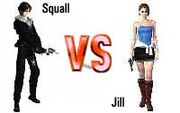 Saturday, July 5th, 2003
Poll 1309
Division
North Division
Match #
05
Match Date
Saturday, July 5th, 2003
Vote difference
19,118
GameFAQs
Prediction
Squall - 62.09%
(25,492 brackets)
This was an odd match in that 60-40 was fairly unexpected. A very large part of the board felt that Jill would be able to win fairly easily, and virtually the entire board would have been bitten in the ass on this match if X-Stats existed back then. Check the 2002 numbers for yourself.
Once the match began, many people were in for quite the surprise when Squall had over 60% of the vote early. Jill was eventually able to get Squall down into the 50s for a bit, but as you can see Squall went on to a fairly routine 60-40 win over an opponent that many felt would take him down without much trouble. People didn't have much faith in the guy after the egg he laid against Solid Snake in Summer 2002.
What would be a good modern match to compare this to... *hunts*
EarthBound vs Doom is a good one. Though the match was pretty much split down the middle, there was a general feeling that EarthBound would win. Doom then went out and whipped EarthBound's ass in a match where it was barely challenged. The same thing applies to Squall/Jill, though Squall had it much easier than Doom did.
Unfortunately for Squall, this was probably the end of the line for him. He was to take on the powerhouse Luigi in the second round, and really, Squall had no chance whatsoever. If Mario was a powerhouse, then surely Luigi would follow in his footsteps. Squall was done, though at least he got to win a match! >_>
Side Note: It's actually interesting to look at the 2002 numbers. Neither Squall nor Jill were behind SFF or the like, and Jill would be expected to win with 55.5% of the vote based off of them. Clearly something happened between 2002 and 2003 that gave Squall a boost.
Gee, wonder what that was.
Community content is available under
CC-BY-SA
unless otherwise noted.