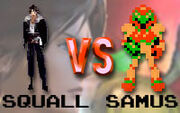 Thursday, August 21st, 2003
Poll 1354
Division
North Division Semi Final
Match #
50
Match Date
Thursday, August 21st, 2003
Vote difference
18,479
Oracle
Expectations
Samus - 59.14%
50 for - 2 against
GameFAQs
Prediction
Samus - 64.90%
(26,647 brackets)
Speaking of characters that people were hoping could beat Link, all Samus needed to do to face him in the Northern final was to take down Squall. Some people believed that Luigi was a threat to Samus before the contest began, and given that Squall slapped Luigi around like a doll, some expected that Squall could do the same to Samus.
It was clear from the beginning of the poll that this wasn't going to happen, but it's not like Squall was disrespected in his final match, either. In fact, Samus was a few percents over 60 when this match began. Squall was then able to spend the rest of the match doing to Samus what Magus could not do to Link, which was to finish the match over 40%. He almost finished with over 42%, which was damn good given how people had been trashing him for such a long time.
Of course, most people blamed Samus's horrendous NES Metroid sprite for her not doing so well, completely ignoring the fact that Final Fantasy 8 characters are animated like crap when they aren't in cutscenes. Thus, the Samus > Link hype was still on in some parts. And in less than a week, we would finally see a match that many of us had been waiting for for two contests running.
As for Squall, he would go on to prove that 2003 was not some fluke occurrence. He's been impressive in just about every match he's been in since his wonderful 2003 run, and though he didn't go out with a bang in this contest, we now know that breaking 40% on Samus (sprited Samus in the pic or not) isn't exactly easy to do.
External Links
Edit
Community content is available under
CC-BY-SA
unless otherwise noted.