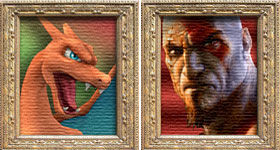 Wednesday, February 24th, 2010
Poll 3809
Division
Heart Division
Match #
80
Match Date
Wednesday, February 24th, 2010
Vote difference
7,384
Oracle
Expectations
Charizard - 53.32%
76 for - 22 against
GameFAQs
Prediction
Charizard - 18.62%

People were REALLY pumped for this match. Hype for an upset was huge after Charizard rocked Duke Nukem (and Kratos subsequently sucked hard against Tails), and everyone was ready to vote right at noon. This could have been the biggest board vote all contest, and come noon.......!!
...the poll glitched. Really, a poll glitch during one of the most important matches all contest? For 5-10 minutes or so, most people were looking at L-Block vs Isaac still. As a result, the first 5-10 minutes... pretty much sucked. But once things got sorted out, Charizard took off and never looked back. This was a heavily rallied match on both sides, but Kratos never got anything going and Charizard won fairly easily. Apparently the win over Duke *was* foreshadowing future success, and at this point who knew how far The Zard could go?
Remember, his next match was against L-Block. That was a bye. Then in the Heart divisional final, Charizard would have Pokemon HG/SS released on the day of the match. If he won that, the bandwagon would undoubtedly be in full effect. Unfortunately, Mario and Link stood in the way. Stick him on the bottom half of this bracket, and who knows what happens.
As for Kratos, he's really unlucky in 1v1s. He'll never have more hype than 2010, and who knows whether God of War 3 will wear off before next contest rolls around.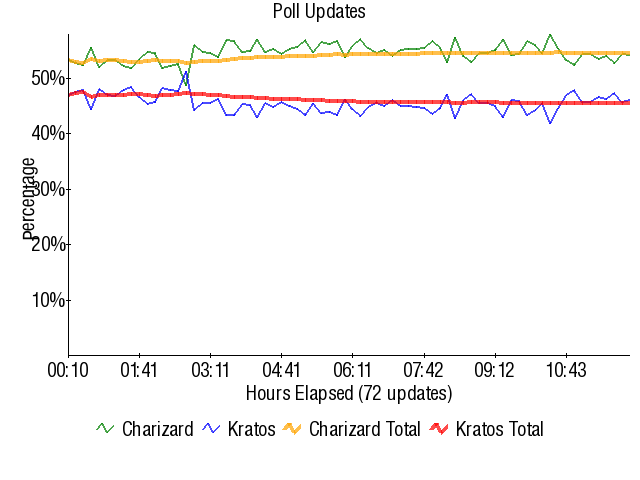 • Previous Match       • Next Match
Community content is available under
CC-BY-SA
unless otherwise noted.