Friday, February 12th, 2010
Poll 3784
Division
Gear Division
Match #
55
Match Date
Friday, February 12th, 2010
Vote difference
3,965
Oracle
Expectations
Terra - 49.59%
43 for - 63 against
GameFAQs
Prediction
Terra - 52.73%

Both guys who made pics here deserve a ton of credit. Photoshop hates light sabers like nothing else, and that is also an OUTSTANDING picture of Terra from RPGuy. One of my favorite overall round 1 pics this contest.
This was one of those matches that was weird at the time, but makes great sense in hindsight. Because of how awful Terra has been in contests for so long, people jumped all over Darth Revan > Terra. It made perfect sense, and without Dissidia it would have easily happened. Star Wars KOTOR made a great showing in the 2009 games contest, so the natural conclusion was Revan would do well. Add in a surefire good match pic for him, and this was supposed to be a slam dunk win for him.
But Dissidia *did* happen, which threw a monkey wrench into the consensus. Dissidia didn't boost New Square (though a good case can be made for Jecht), but the effect on Old Square was paramount. Dissidia exposed Old Square to the New Square audience that maybe didn't give those older characters a chance, and it showed this contest. Cecil, Terra and Kefka all did well this contest, and Terra wasn't finished impressing once she was finished backhanding Revan. It seemed embarrassing for Revan at the time, but he ended up being about as strong as everyone thought. Terra just went far, far above everyone's expectations thanks to her newfound EX Dualcast strength.
Dissidia is a weird case. The game is unequivocal garbage with one of the worst scripts ever written (and I hesitate to call that fanfic trash a "script"), yet it makes many of the characters look really good anyway.
Match Trends
Edit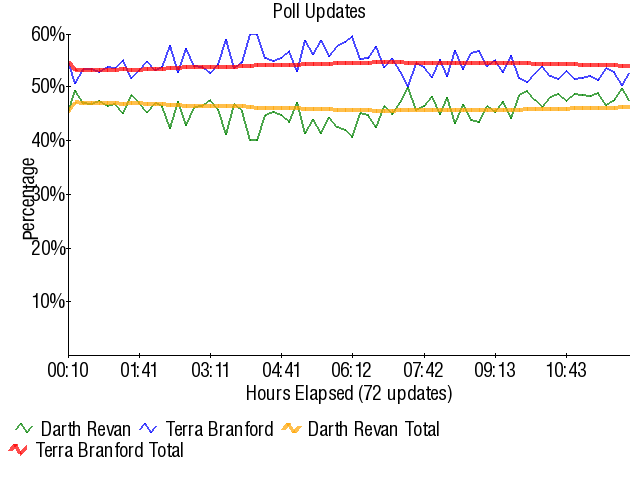 External Links
Edit
• Previous Match       • Next Match
Community content is available under
CC-BY-SA
unless otherwise noted.