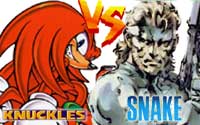 Friday, August 9th, 2002
Poll 979
Division
East Division
Match #
40
Match Date
Friday, August 9th, 2002
Vote difference
14,587
GameFAQs
Prediction
Snake - 76.18%
(12,771 brackets)
After Knuckles's killing of Akira was paired with Snake's half-struggle against Squall, minor Knuckles over Snake hype ensued; however, this match was yet another example of board hype not meaning much. Snake jumped out to an early lead, and despite barely breaking 60% by the end, him winning this match was never in question after the first few minutes. It could be easy to assume that Snake struggled in this match, but considering that Knuckles scored an 80% blowout in the first round, holding him under 40% in his successive match was quite the feat. This not only helped show that Snake was a player in the 2002 contest, but that Akira Yuki was an absolute joke. Getting blown out by someone who eventually gets his ass handed to him is horrible for your contest stock, and there may be good reason why he hasn't returned yet.
Oddly enough, however, Knuckles was, by the numbers, the second strongest character in this four pack in 2002. Ahead of Squall. Ouch.
Community content is available under
CC-BY-SA
unless otherwise noted.