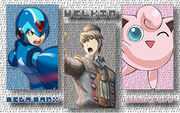 Round One


Friday, July 12th, 2013
This was another completely dead match, but there are two things in it worth talking about anyway.
One, JIGGLYPUFF FINALLY MADE A CONTEST HOLY S*** IT ONLY TOOK 11 YEARS AND I'VE BEEN NOMINATING AND RALLYING FOR HER (AND SCREW EVERYONE IT IS A HER, I DON'T CARE IF IT CAN HAVE GENDERS IN-GAME) SINCE 2002 OH MAN I WAS SO HAPPY THE ORIGINAL 12 IS FINALLY FINISHED!!!!!!!
Ahem.
Two, is Mega Man X Noble Nine strength at this point? 65% in a threeway poll is no joke, and I feel like he should absolutely be able to give Sonic or Crono a match 1 on 1 at this point. I know the Noble Nine is a winning streak, but he has to be at the lower level of them by now, right? Dude's a complete beast.
But JIGGLYPUFF GOT IN JIGGLYPUFF GOT IN JIGGLYPUFF GOT IN JIGGLYPUFF GOT IN JIGGLYPUFF GOT IN.
For those who wonder why fodders gets in every year, this is why. We don't care if a favored character gets creamed. We just want them in. And Jigglypuff got second place instead of last so poo on you.
The next step is to finish up the Melee characters!
Dr. Mario
Popo
Young Link
Pichu
Roy

Young Link and Doc Mario probably aren't eligible, but someone get on the other three.
Zen's (Late) AnalysisEdit
who the hell is Welkin Gunther and how did he get a 12 seed? I know very little about Valkyria Chronicles, but why didn't people just focus their noms on the girl from the cover? With red eyes? I think that's a thing? Here's another question mark?
The votals here were pathetic, and Mega Man X cleaned house, almost tripling the Puff. Maybe all the theories that any Gen 1 Pokemon would be good are bullshit, cuz Jigglypuff has Smash behind her as well. Maybe Mega Man X SFF'd her? Is there Mega Man and Pokemon crossover? Who knows anymore, with this few people voting I guess everyone on this nerdo site has played everything.
Welkin was so close to 3K votes. Getting doubled by Jigglypuff and... sextupled by Mega Man X means you ain't shit. I wonder what obscure JRPG character is going to show up this year? Who will be our Welkin Gunther?
ps nominate Shellder
pps I just took a long look at Welkin's pics and boy is he lame, if he were 1 v 1 with Alan Wake I'd vote bland plaid white man any way
Community content is available under
CC-BY-SA
unless otherwise noted.