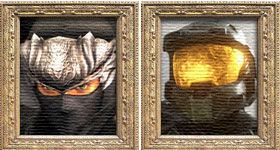 Monday, February 22nd, 2010
Poll 3805
Division
Mushroom Division
Match #
76
Match Date
Monday, February 22nd, 2010
Vote difference
3,866
Oracle
Expectations
Ryu Hayabusa - 47.43%
24 for - 74 against
GameFAQs
Prediction
Ryu Hayabusa - 15.87%

This match wasn't *supposed* to even be in question. Master Chief is far more important to the Xbox than Ninja Gaiden is, and who even remembers Ryu Hayabusa being the guy's name in the NES Ninja Gaiden series? Chief was supposed to score his first SFF beating ever. And then Ryu H went out and only got 62% on Crash Bandicoot, which supposedly further cemented his incoming beating. Even Chief repeating that terrible performance on Spy was dismissed by most, because 62% on Crash (including losing the morning vote) just sucks *that* much.
Early on, Chief seemed fine. He always gets anti-voted early, but started off in the 55-60% rage for a couple minutes. No one would actually bracket-vote Master Chief since no one likes the guy anymore, so this seemed over.
Then after about two minutes, the wheels came flying off and "Master Flop" was born. Not only did Ryu H come back and win, but did he so with ease. This was about as dominating a win one could earn with percentages as close as 52.5-47.5%. Chief rolled over and died after the first couple minutes, and the best thing is no one cared. No one likes Master Chief, everyone likes seeing him flop again and again in these contests, and it's all thanks to how annoying the Halo crowd was during the early Zeroes. Halo is not good, has never been good, and will never *be* good. People who think Halo is the best FPS series haven't played many games, and Master Chief gets the full backlash of this. For anyone who thinks anti-voting doesn't matter, go look at almost every single 1v1 Master Chief match.
The only disheartening thing here is Chief winning the early vote because of bracket-voting. People can deny it all they want, but the proof is in the trends: Early voters always vote for their bracket, and in this particular case it's pathetic. It's MASTER CHIEF, king of getting anti-voted and the one character left who could lose the board vote to Sephiroth. You anti-vote this loser, no matter what.
Funniest thing is Chief will get a debatable first round match next year against Kefka or something and everyone will pick him to lose. Ryu H > Chief is one of those "won't get fooled again" type of losses. So of course Chief will win, for no reason other than "hurr hurr I love trolling".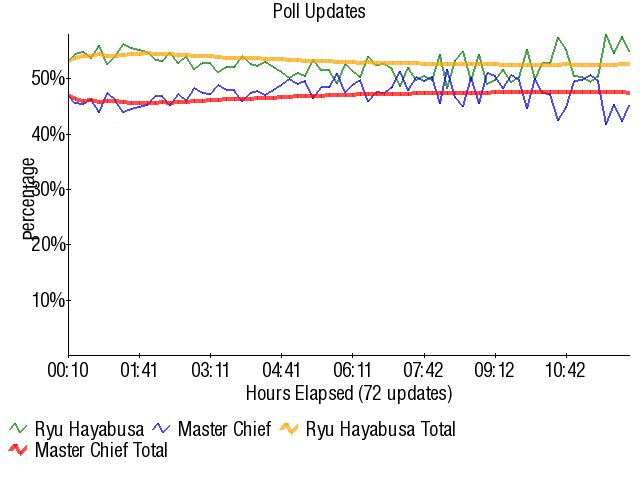 • Previous Match       • Next Match
Community content is available under
CC-BY-SA
unless otherwise noted.