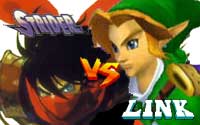 Tuesday, August 13th, 2002
Poll 983
Division
South Division
Match #
44
Match Date
Tuesday, August 13th, 2002
Vote difference
36,722
GameFAQs
Prediction
Link - 80.49%
(13,493 brackets)
This is one of the easiest analyses ever, simply because there was absolutely no chance in hell that Strider was going to win this match or even get close.
The only thing to draw from this match was the fact that Link was easily one of the favorites to win the entire thing at this point. He literally had a free pass into the Final Four from the beginning, and all that was left was to see who could possibly match up with him. And after scanning all of the characters still in play, the only ones who looked like they could give Link any sort of run were Cloud, Mario, Crono, Solid Snake, Sonic, Sephiroth, or Mega Man. And of all those characters, only Cloud's numbers stacked up with Link's. His prediction percentages and vote totals were even with Link's, while everyone else's numbers were a bit weak in some spots, save for the West elites who hadn't had their second matches yet.
But we still had a long, long way before seeing which (if any) characters would possibly take Link down. He came out like a machine, and thanks to his weak division, it would be quite awhile before Link saw any actual competition at all.
Community content is available under
CC-BY-SA
unless otherwise noted.