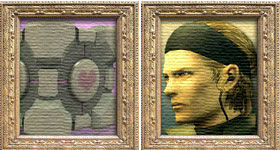 Thursday, February 18th, 2010
Poll 3797
Division
Hyrule Division
Match #
68
Match Date
Thursday, February 18th, 2010
Vote difference
5,666
Oracle
Expectations
Weighted Companion Cube - 60.61%
95 for - 4 against
GameFAQs
Prediction
Weighted Companion Cube - 38.31%

After Cube's wtfpwn of Sandal in the first round, this match brought him (her?) back down to earth. The Boss is not a particularly strong character, especially during the day, but Cube did the whole easy-win-that-looks-bad-on-paper thing with her for 12 hours. The match stayed at about the same percentage all day long, which proved once again The Boss barely moves all day in her matches.
This was practically a win by default for the Cube, and it proved there would be no bandwagon run for him (her?) this year. You don't go from a 54-46 win on The Boss to competing with Luigi, and in a way Ngamer was right about his "death of the joke character" podcast hypothesis. They didn't do particularly well this contest outside Missingno; they just got extremely lucky placement, plus the bandwagon effect is much harder when you need 50% of the vote in a poll.
Remember, L-Block's most impressive win was not necessarily the 2007 final. Before that contest became The Internet vs Everyone Else, L-Block was a normal character. When he shocked everyone and got first place against Snake, Sonic and Squall, he only needed 29% of the vote. In the final, he had 33.5%. 1v1s are a whole different animal.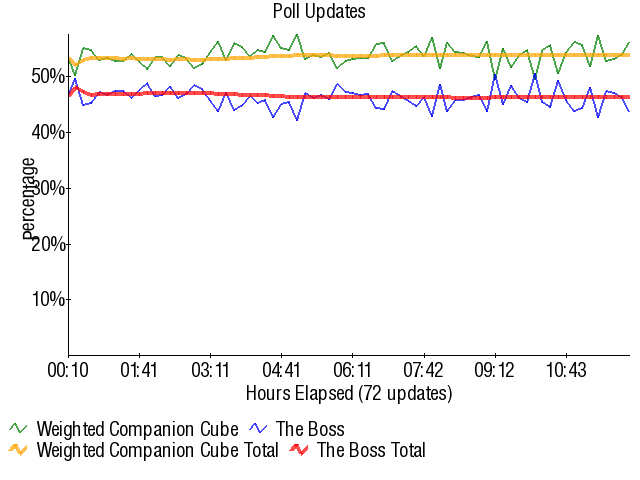 • Previous Match       • Next Match
Community content is available under
CC-BY-SA
unless otherwise noted.