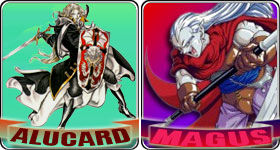 Round One
Saturday, January 16th, 2010
Poll 3731
Division
Hyrule Division
Match #
02
Match Date
Saturday, January 16th, 2010
Vote difference
11,113
Oracle
Expectations
Alucard - 50.52%
65 for - 47 against
GameFAQs
Prediction
Alucard - 53.09%

This was a very debated match pre-contest, but was one of those over-in-seconds deals come game day.
The basic idea was Magus has looked like such crap for so long (true of all of Chrono Trigger, really) that he was not to be trusted in a debatable match, much like the reputation Kefka has. Alucard is somewhat in the same boat, but shows signs of life now and then, did well in the fourways and just looked better than Magus of late. This is the eye test. One character just looks better than the other sometimes. Alucard might be "lol I lost the day vote to Liquid", but Magus did the same thing to a bag of sand. Plus his entire series is falling more and more over a cliff every year. Then there was this being a day match. Both of these characters suck with the day vote, so a lot of people figured they'd both do so badly that Magus could catch an SNV rally and win.
Didn't matter. Alucard jumped out to a decent lead early and never looked back en route to absolutely destroying Magus. Magus didn't win a single update all match, nor did he even come close. Every time this guy looks like he can fall no farther, he does.
Were Leonhart4 and charmander6000's stats well-known before this contest, Alucard likely would have been the massive favorite even in a night match. Leon's stats have Magus getting 41.33% based on the Sandbag debacle, and he would cheese his way into some great Oracle picks with those stats. I rail on 4ways all the time (and rightfully so), but these two made a great set of stats with some very intelligent 1v1 adjustments. The 1v1 adjustments are the obvious reason why the stats work ;)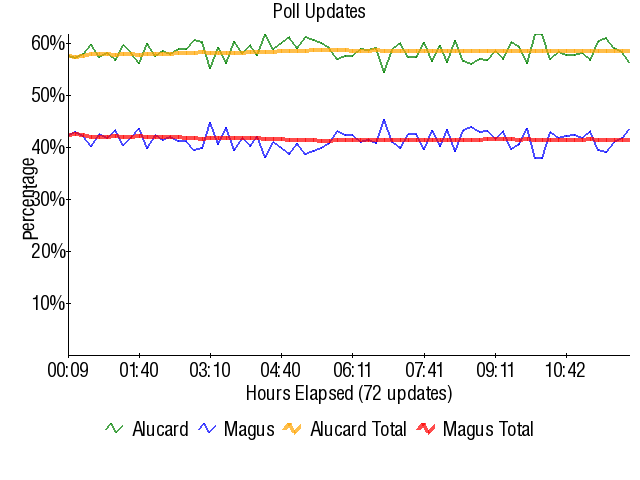 • Previous Match       • Next Match
Community content is available under
CC-BY-SA
unless otherwise noted.