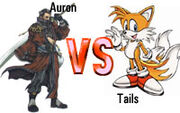 Thursday, July 10th, 2003
Poll 1314
Division
East Division
Match #
10
Match Date
Thursday, July 10th, 2003
Vote difference
31,514
GameFAQs
Prediction
Auron - 60.70%
(24,921 brackets)
The hype entering this match was strange, because there probably shouldn't have been any hype at all. That said, most people felt that Tails would win. I can't exactly say what the reasoning was, though it was probably out of hope more than anything else. Many people were snake-bit by Alucard last year, and I guess they were hoping for Tails to beat Auron as a sort of make-up? I dunno.
It's tough to make a case for why Tails can beat Auron if he can't beat Alucard. A lot of people brought up how hated Tidus was, though given that Auron has almost always been the most popular FFX character, Tidus hate was irrelevant. It was further irrelevant after what Tidus did against Ganondorf, and come match time Tails was out of this thing despite a good amount of the board being behind him. Auron began this thing by having nearly 70% of the vote (and as a new character that we didn't yet have a solid reading on, this was impressive), though Tails managed to get that down a little as the match went on.
For the second year in a row, Tails went up against a character that a lot of people felt he could beat, but lost -- and it didn't take long for people to realize that his odds in 2002 were a hell of a lot better than 2003. Tails would eventually go on to win a match in 2004, though his stigma of not being able to win one (and being seeded 12th) caused a lot of people to pick against him that year. As for Auron, this was the first match of his career, though it took a long while before people began to feel that he was the strongest character from FFX. Even now, some people still believe it's Tidus.
Community content is available under
CC-BY-SA
unless otherwise noted.