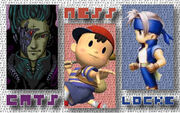 Round One


Friday, July 19th, 2013
This was one of those matches that seemed difficult on paper pre-contest, with loads of people not knowing what was up, to becoming a fairly easy match to predict once people actually bothered looking at it. For one, CATS is fodder garbage and always will be. He'd probably even lose a match intentionally set up for him to win--
http://board8.wikia.com/wiki/(4)Ansem_vs_(5)CATS_2005
Oh.
The other debate was Locke vs Ness, because Old Square has boosted like anything since Dissidia happened and people thought Locke could pull off the upset. But there were two issues with that. One, Locke was not in either Dissidia. And two, I'm not sure Locke wins this even if he was in Dissidia.
We only have what we have, however, so you get Ness against no-Dissidia Locke, which I would equate to Celes. 2010 Ness vs 2006 Celes gets us with 70%.
I know cross-referring old stats is unreliable, but Ness would ultimately end up scoring 60% on Celes in this poll and we're only concerned about who wins. This match was done within 5 minutes of it beginning for a reason: without Dissidia, Old Square still sucks in contests.
Oh and I don't usually like defending my own pictures like this, but the people who were complaining about Locke's picture are absolute idiots. There are no good pictures of Locke beyond fan art. Zero. That might actually be the only good official picture Locke has, and it comes from some card game. People should really learn to stop complaining once in awhile.
Zen's (Late) AnalysisEdit
@GANON1025 can you explain your choice of match pic here? Locke looks like a keychain you'd get out of a capsule machine at the trendy boba tea spot in the gentrified part of downtown that's right across from three identical trendy boba tea spots and eight ramen places.
There was some non-debate before this match because Ness had been punked by Big Daddy recently and people thought some rando FFVI party member would be able to take him down because of that.
Which is not the case, Ness was able to beat Zidane once, why would he struggle with Cole? In fact, Locke was closer to CATS than he was Ness.
Speaking of CATS, remember how he beat Nathan Drake in 2008? Good times. I wonder if he'll ever get another shot at a real win.
Community content is available under
CC-BY-SA
unless otherwise noted.