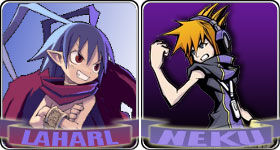 Thursday, Wednesday, January 28th
Poll 3755
Division
Heart Division
Match #
26
Match Date
Thursday, January 28th, 2010
Vote difference
6,983
Oracle
Expectations
Laharl - 52.20%
82 for - 28 against
GameFAQs
Prediction
Laharl - 61.99%

This match seems oddly familiar. Oh right, it's almost identical to this one: http://board8.wikia.com/wiki/Vyse_vs_Laharl_2004
It was very similar in percentage, prediction percentage and even match pic appearance with all the purple. Granted Laharl was in both of these polls, but still. There's a contest Bacon won a prize in with an unknown user name, and he hasn't revealed which. Given how similar some of this bracket was to Summer 2004, Summer 2004 was likely that contest. With this match specifically, we have two cult characters in an 8/9 match that seem paired together on purpose.
In 2004, the logic was Vyse being a contest before, being slightly less cult and being the top option in the poll -- primary and recency effect, in other words. Fast forward six years, and we get the exact same thing with another 8/9 Laharl poll. Laharl is slightly less cult, has been in contests before and was the top poll option. This made him the favorite to win this win-by-default poll, and that's exactly how it played out. It was an easy, expected win for Laharl, but you need only look at the lack of percentage shifts and vote total to see how much people really cared about this one. 55k total votes in a day match is dreadful.
Maybe six years from now, Neku will be an 8 seed against Guybrush Threepwood in a day match or something and get handed an auto-win. For now, Laharl finally got his contest win and was removed from the list of long-time losers.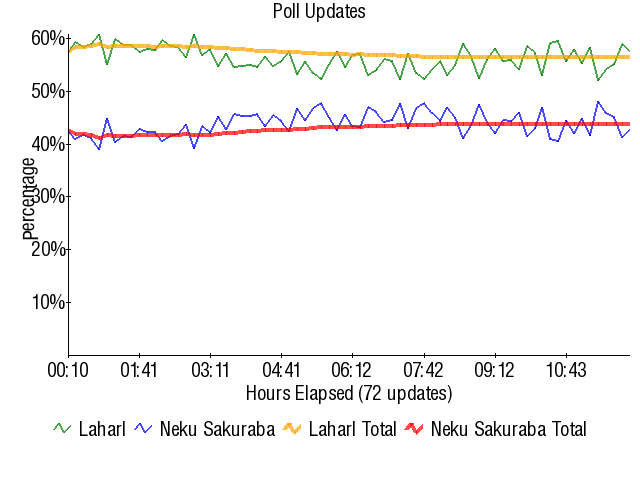 • Previous Match       • Next Match
Community content is available under
CC-BY-SA
unless otherwise noted.