Monday, February 1st, 2010
Poll 3763
Division
Varia Division
Match #
34
Match Date
Monday, February 1st, 2010
Vote difference
25,943
Oracle
Expectations
Jill - 55.72%
107 for - 3 against
GameFAQs
Prediction
Jill - 62.59%

Grand Theft Auto and its characters are notorious for falling into irrelevancy quickly, and that trend continued this contest. For whatever reason, Vice City is the only thing related to GTA with lasting strength. Not San Andreas, GTA3 or any of the characters. Niko was the only GTA character to make the field, and he didn't bother to show up. Jill was close to 70% here before the ASV showed up, and even then the match didn't become respectable. Niko just got totally wrecked, and there was some hype after this match of Jill maybe doing well on Samus. No matter how far and fast GTA tends to fall, Jill did a little better than people expected. The fall helps, but this was also the first match where a potential across-the-board Resident Evil boost came into play.
RE5 was a god-awful game, but you can't really deny its impact. Everything in the series performed above expectations this contest.
Match Trends
Edit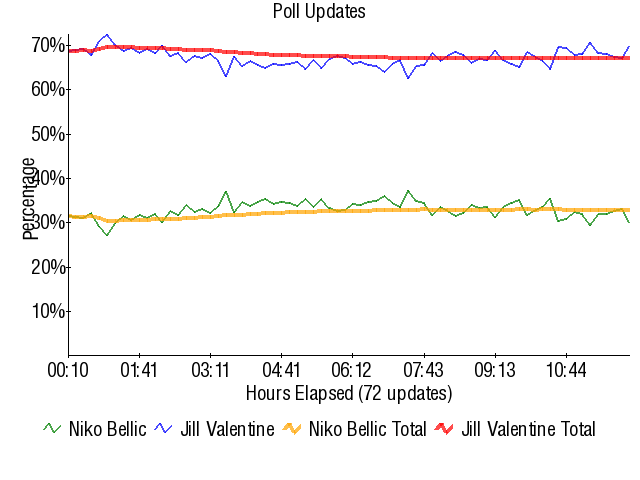 External Links
Edit
• Previous Match       • Next Match
Community content is available under
CC-BY-SA
unless otherwise noted.