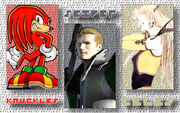 Round One

Monday, August 5th, 2013
Knuckles winning this match was no surprise. He was never going to lose against two second-rate Final Fantasy characters.
What floored the hell out of me was Seifer tanking so hard. I didn't think he'd have any trouble at all beating Celes, because even with Old Square going nuts, Celes didn't have the Dissidia boost going for her, and even FF8 haters seem to like Seifer. Or so I thought.
Seifer not getting into a contest even after winning a spot from the Nomination Rally Tournament should have clued us in on how bad he is, quite frankly. Not to mention his god-awful Kingdom Hearts 2 appearance. I wish I had better explanations for him doing bad, but the simple one is just people still hating on Final Fantasy 8. Rinoa's showing helps prove that, and Squall being so strong in contests is pretty impressive given that.
I think it's fair to say that only Squall should ever bother getting into contests from that game, though a joke option here and there certainly couldn't hurt.
Zen's (Late) AnalysisEdit
Knuckles was bound to win this match. I talked about it a bit in my last writing project, but Knuckles is probably the most universally well-liked Sonic character. Nobody hates Knuckles. Nobody is capable of hating Knuckles. Well, before he was a meme. People seemed to really like that meme, though. So much that I heard it helped kill VR Chat.
Second place was a pretty obvious choice: Our boy Seifer, NRT winner! Finally, after all these years, Seifer would have his time in the sun, we just had to hope Celes wouldn't hold him back too much.
Oh, shit, wait, Allen didn't check the calendar before he scheduled this match!
https://imgtc.com/i/BYUR4Zj.mp4
What an unfortunate coincidence. Well, Seifer sure did get his ass kicked. I have no idea why, again, I'm not an expert on FF strength in contest, but it just seems to me like Seifer is just a huge weenie from a game that is not particularly strong anymore. Seifer single-handedly wrecked what few perfect expert brackets were left. I'm pretty sure after this nobody had called everything right, and it was extra embarrassing because this match was supposed to be one of the obvious ones.
After Seifer's loss, @LeonhartFour was devastated. To this day he is in self-imposed exile, leaving nothing but a note before he left. It read "when I finally pass from this world, have Seifer be the pallbearer at my funeral so he can let me down one last time."
Community content is available under
CC-BY-SA
unless otherwise noted.