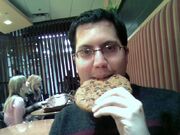 ad00 is a long-time lurker slowly climbing up the ladder of notoriety. Ran a short but moderately successful contest of opinions.

Since September 11, 2006 he has taken over the Winning Streak topics from ff6man, who got them from PukeInMyPot. This may be the 3rd-worst tragedy to fall on that date.
Mostly hanging out in the secret hangout of the not so secret TT these days, but always occasionally posting in random topics.
ad00's latest project is the Most.Quotable.Game.Ever contest, meant as a pseudo replacement for the Quote contest that never took place. It's really just an excuse to post some great quotes from the front runners and personal favorites such as Psychonauts, Portal and Alpha Centauri.
http://img169.imageshack.us/img169/4134/3gp4.jpg
http://img83.imageshack.us/img83/9526/2ks1.jpg
Users that think ad00 is freaking awesome and under appreciated by the ignorant masses
Edit
Applekidjosh <3 <3 adoo
See Also
Edit
External Links
Edit