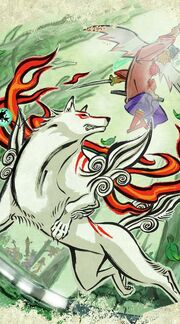 Amaterasu is the main character of Okami. She is a goddess in the form of a wolf. Her full name is Okami Amaterasu, but is often just called "Ammy" for short. She is a white wolf with scarlet markings that uses weapons called Divine Instruments to fight. She also uses a Celestial Brush to draw different symbols to unleash various powers. And she can pee in three different directions.
Ammy made it into the Summer 2007 Contest and was one of the season's most pleasant surprises; less than 40% of brackets picked her to advance ahead of Little Mac and Matt the Mii in her first match, yet she beat them easily. Then Ammy really shocked the site by beating out Ada Wong and Balthier to advance all the way to round three (a result less than 10% of brackets predicted)! She continued to surprise when she beat out Frank West and Kaim to advance to round 2 in 2008 (less than half the brackets) and, in what is itself perhaps stunning, was picked by just 36.27% of brackets to beat Shadow in round 1 in 2010, and not doing bad against Luigi in Round 2. Perhaps after making the second round for the third straight contest, she'll finally get noticed as a solid midcarder. 2013 proved Ammy's strength, soundly beating Vyse and Adol for her fourth straight round 2, and 2018 had her being used as GameFAQs' weapon of justice, giving Draven the deserved massacre he would've received had Reddit not come to his rescue.
Notable Matches
Edit
See Also
Edit
External Links
Edit
Community content is available under
CC-BY-SA
unless otherwise noted.