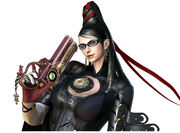 Bayonetta, real name Cereza, is a sexy pistol-wielding witch created by the director of Okami. Four years after her eponymous game was released for the Xbox 360 and PS3, Bayonetta debuted in the Summer 2013 Contest, where she made a killing in R1 before crashing in R2 against a N9er and a reliable mid-carder. Then in-between contests Bayonetta effectively became a Nintendo character, with an even more acclaimed sequel for the Wii U and becoming a downloadable character in Smash Bros 4. Thus the Fall 2018 Contest had her getting a good seed and two wins, a respectable beatdown of Riku and a closer bout with Pac-Man before a very contested match with Geralt where Bayonetta led for a while and lost by less than 600 votes.
Community content is available under
CC-BY-SA
unless otherwise noted.