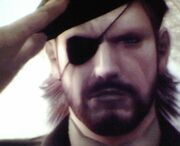 Big Boss, also known as Naked Snake, is the hero of Metal Gear Solid 3. Yes, technically that's a spoiler, but if you hadn't already figured it out anyway you really shouldn't be playing a Metal Gear game.
BB was in SC2K5, where he lost to Auron in the first round.
He later appeared in SC2K7, where he advanced to round three and eventually fell to Mario and Sephiroth in a four-way match. The amazing thing, though, was that he stunned the world by not only defeating Magus in round two, but blowing him right out of the water in the biggest embarrassment for Chrono Trigger since Magus v Knuckles. The really sad thing, though, was how BB won so convincingly that he might have able to pull out the win even without the massive pic advantage of looking like Solid Snake for that matchup.
Notable Matches
Edit
See Also
Edit
External Links
Edit