We're Getting Mutants in the MCU - The Loop
Play Sound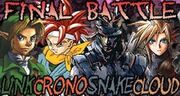 This was named Article of the Week in September of 2008.


Fall 2008 Contest was the seventh GameFAQs character tournament held on GameFAQs. However, many veteran members of Board 8 still call it the Summer 2008 Contest.
Ulti's Pre-Contest Analysis

[

]
For the wiki readers, this PCA is going to seem very odd. The reason for that is because I'm writing this over a decade after the fact, in 2020 of all years, because I was so disgusted at the thought of another LOL 4-ways contest that I almost quit doing this for good. The results are fun, but I detested the format. I actually did quit for awhile, but the games contest brought me back in. If the contest following this one didn't involve video games themselves instead of characters, I probably would have quit for good. Shows you how much I prefer games themselves over characters for me to bother with a PCA for another 4-way after this one, but I digress.
12 years later, I finally have the time and the motivation to do this thing. It won't be perfect and it'll have some strange references, not to mention it'll be missing some of the usual live anecdotes, but it's better than just having this gaping hole missing in the data. I wish I had found the will to do this earlier, but hey. It happens. There are multiple matches for 2008 that have no writeups, and as much as I hated the 4-ways, in skimming back over the contest a lot of the matches are fun enough to write about. So I figured what the heck, LFG(!) and do this thing.
You wouldn't know it to read Board 8 in 2020, but believe it or not, the people here used to have something called a "sense of humor". You know how most people here are feverishly against rallies and joke characters nowadays? Well back in the mid 2000s, most of the same people were all on board. You had the occasional stick in the mud like red13n or Leonhart4 whining about rallies and jokesters even back then, but by and large Board 8 used to love this stuff. It showed in the nominations and final bracket.
Ngamer was nice enough to tally it all up for us: https://board8.fandom.com/wiki/Board_8%27s_2008_Nominations
I mean look at this list. It's absurd to peek back on. 16 nominations for Tim from Braid. 33 for L-Block, even with a bunch of people rooting for it to lose later on once things got going. A bunch of other stuff that is just so out of place that it made 2008 "the fad contest". The bracket had the typical heavy hitters spread out everywhere, but the big story going into this thing was the utterly insane number of joke characters, fodder, and off-the-wall nonsense. The entire internet got in on the L-Block joke in 2007, and it felt like the internet wanted to keep the laughs going a year later. And why not? L-Block's run was the stuff of legends, because it happened back before the days of social media bandwagons and easy rallies. That thing slowly built momentum, and then exploded at just the right time. We've had rallies since then, some of which I'm in love with, but none quite like L-Block. Only Undertale's run is really comparable to what L-Block did.
If you read all this and find it ridiculous, go look at the vote totals and site traffic data from back then and compare it to now. I was proven right long term, and frankly it was easy to see coming. Rallies are better for contests. End of story. I will always call those who say otherwise a bunch of liars, because I refuse to believe anyone actually enjoys contests that struggle to hit 30,000 votes in a poll. Back in 2008, every poll broke at least 121,000 votes. Most did even better.
Compare that to the most recent contest that happened before I felt like writing this all up. Here is a semifinal match that was hyped up all contest long: https://gamefaqs.gamespot.com/poll/8040-semifinals-the-witcher-3-wild-hunt-vs-elder-scrolls-skyrim
26,000 votes. That is an embarrassment. That's part of what drove me to get this done. That and having a missing PCA.
In the interest of full disclosure, I was originally going to go on a huge rant about hopeful 20-somethings on the board being really idealistic and happy a decade ago, and then growing up to be unsuccessful 30-somethings stuck in the mire of joyless, liberal, woke identity politics and parlay that into why all the same people went from enjoying rallies and jokes to now hating them all. It was going to be really mean and obnoxious, but a friend of mine dying of covid last night put some perspective on things. I just don't have it in me to do that stuff anymore. I debated not including this paragraph at all, but hey, PCAs always have random nonsense in them ;)
There will be rants though, no worries, just not those kinds of rants. Life is too short to spend it being miserable.
The other major story of this contest was Super Smash Bros. Brawl, and the utterly insane effect it had on the bracket this year. I'm saving a lot of that for the actual matches involved, but trust me, if you weren't there for the obscene amounts of hype that game got before release, there is no possible way to quantify it. "You had to be there" is overused, but it applies here. It's like trying to describe the hype for Infinity War or Endgame. There is just no way. You had to be there.
Ulti's Post-Contest Analysis

[

]
Post-Contest
I hinted at it many times in these writeups, but this format SUCKS! It killed so much of the fun, it caused so many weird upsets that would have been far better as 1v1s, and it just sucked so much air out of the room. I know people will look at the vote totals then and now and think we're having first world problems, but this contest could have been sooooo much better. I mean come on people, it took me 12 years to sit down and write all this up. Me, the guy who lives to write PCAs every year, even for contests that are legendarily awful like Years and Rivalry Rumble.
Contest ranking up until this disaster:
Spring 2004 (Games)
Summer 2002 (Characters)
Summer 2003 (Characters)
Summer 2005 (Characters)
Summer 2007 (4-way Characters)
Summer 2006 (Female Bracket)
Spring 2006 (Series)
Summer 2008 (4-way Characters)
Summer 2004 (Characters)
Spring 2005 (Villains)

No ultimate loser with this 4way junk.
Sorry it took so long to write this!
2008 Contest Detailed Stat Listings
[
]
See Also
[
]