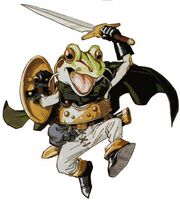 Frog is from Chrono Trigger, and his theme is considered one of the best musical pieces in video gaming.
In the Contest world, Frog is know for delivering four of the greatest matches that GameFAQs has ever seen. Three of them took place in his rookie season of 2004, when he used one of the most fearsome night votes of the year to his full advantage. First Frog gained just enough of a lead in the dead of the night to outlast a day-long charge from Liquid Snake, then his massive final hours support proved just enough to overcome Master Chief, who had ridden the ASV to one of the biggest comebacks ever and taken a comfortable lead of his own for a while, and finally he nearly did the unthinkable by using that same patented late surge to bring himself within 2500 votes of Solid Snake himself.
The grand tradition continued in 2007, when after collapsing in ugly fashion against Axel's powerful ASV, Frog's massive Board 8/late night support was just enough to push him back out in front to advance behind Samus and stay alive in the tournament.
Notable Matches
Edit
See Also
Edit
External Links
Edit
Community content is available under
CC-BY-SA
unless otherwise noted.