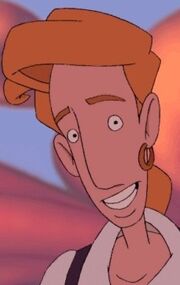 Guybrush Threepwood is the main character in Lucasarts' Monkey Island series, and a mighty pirate.
As of 2018, he has been in the Summer Contest six times, failing to advance to the second round every time.  He also lost in the 2011 Rivalry Rumble, which officially makes him the winless character with the most losses in contest history, going 0-7.
This proves that most of the voters are complete pillocks who wouldn't know a great character if he insult-sword-fought them to death.  In SC2K5, most of Guybrush's supporters pushed to get Manuel Calavera in instead.
In Character Battle IX, Guybrush got a moral victory; despite expectedly getting blown out by Ganondorf, Guybrush managed to beat Max Payne for second place.
Notable Matches
Edit
External Links
Edit
Community content is available under
CC-BY-SA
unless otherwise noted.