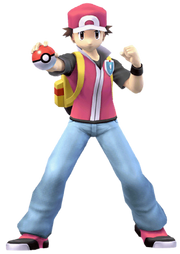 Pokemon Trainer Red is the protagonist of the first generation Pokemon games. He goes around catching Pokemon, training them, getting the badges, and eventually defeats the Elite Four. You could later fight him in the second generation Pokemon games, where he has a Pikachu.
In Super Smash Bros. Brawl, he hacks and gets Squirtle, Ivysaur, and Charizard on the same file. It's pretty difficult to switch between three completely different characters at the same time, but you have to make an attempt at it due to each Pokemon having unseen stamina levels.
Ash Ketchum was obviously based on the design of Red, but they are different people. For one thing, Red doesn't break the rules of his universe...

Red made his contest debut in 2010 and landed in the first match of Day 2, where he immediately made an impact by providing an intense battle with Revolver Ocelot, pulling out a narrow victory. It was the third-smallest victory by a character making their contest debut, behind Ryu Hayabusa and Frog's Round 1 performances in 2004.

In 2013, Red had his strongest showing, going all the way to the semifinals after a LFF-fest quarterfinal (Vivi and Squall - the former of whom had also leeched Mario out of the contest the previous match), and there being trampled by two Noble Niners.
2018 had Red coming even stronger, winning three rounds but falling to a surprising Alucard, given The Plan was as strong as the Nintendo boost.
Notable Matches
Edit
See Also
Edit
Community content is available under
CC-BY-SA
unless otherwise noted.