We're Getting Mutants in the MCU - The Loop
Play Sound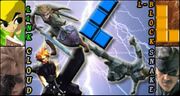 The Summer 2007 Contest was the sixth GameFAQs character tournament held on GameFAQs. Due to it starting in September, it is occasionally called the Fall Contest.
On July 13, 2007, CJayC announced that there wouldn't be a "Quotes Contest" or a "Games Contest" this year, but instead there would be another Character Battle, that would be a "departure" from the old style.
The "twist" for this contest was that it is a 4-way affair for each match. Using the Poll of the Day to decide, the top two characters from each match move on to the next round. Bracket makers were asked to pick the first and second place characters who will move on for each match IN THE CORRECT ORDER.
It turns out, however, more than half of bracket makers did not realize that the order matters. SineNomine has to make a sticky topic explaining this during the first round matches in order to prevent flooding of this same question being asked again and again.
Ulti's Analysis

[

]
2007 was a fun contest for all the right reasons, but the fourway thing really should have not come back. And it definitely didn't need to ruin the return of our games contest, holy hell.
Contest ranking up to and including 2007, which people love to see for some reason:
Spring 2004 (Games)
Summer 2002 (Characters)
Summer 2003 (Characters)
Summer 2007 (Characters 4-way)
Summer 2005 (Characters)
Summer 2006 (Females vs Males)
Spring 2006 (Series)
Summer 2004 (Characters)
Spring 2005 (Villains)

For those looking for my standard pre and post contest blurbs, they're in the writeups for the first and last matches of the contest.
2007 Contest Detailed Stat Listings
[
]
See Also
[
]
Results and Analysis
[
]
Ngamer's Analysis

[

]
The true wildcard of the group; perhaps even as big a wildcard as L-Block himself! Block's run was the most shocking and unbelievable thing ever to happen on this site, and so naturally it's always going to be the first thing that springs to mind when people think back to 2007, and I get the impression that the whole year is going to end up being judged by how people feel about L himself. That makes sense, but it's a long ways from fair, IMO, because '07 had a ton of other notable events and surprises as well. 4-way matches may have been more a "gimmick" than a true twist, but hey, the Character battle needed something new, and 4-ways sure as heck beat Tag Teams or Best Sidekick or whatever other kind of nonsense was being thrown around in early '07. It was a whole new way of looking at character strengths, and for the first time since '03 we pretty much had to throw old stats overboard and expect the unexpected. Pokemon and Halo went from jokes to serious threats, Nintendo's third tier were exposed as SSB-leaches who get dropped the moment something else likable comes along, and with Team Sonic likewise taking a nose-dive, Square was able to come closer to evening the gap with Nintendo than we'd seen since back in 2003.
The other great thing about 2007 was, with maybe one or two exceptions, there was no such thing as a bad match. Even when the winner was never in doubt, there was nearly always something interesting going on below the surface, like watching Frog fight back valiantly to overcome Axel, or Phoenix hold the line against Bomberman, or Vincent crush (not really, but still!) the Noble Nine against Crono. On the other hand, because there was so much going on at once, no poll could match the full on intensity of the best 1v1 slugfests of the past. I wasn't so crazy about 2007 that I want to start switching over to a 4-way format full time, or even half-time for that matter, but still, it was a cool change of pace and ends up earning high marks across the board in my book.