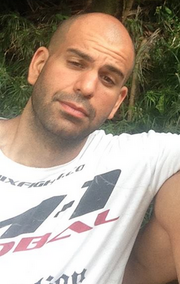 yoblazer33
(Yoblazer or simply "Yo") is considered to be a board veteran. He has been around
Board 8
since 2002, but lurked almost exclusively and did not submit an official contest entry until
SpC2K4
. Yoblazer is known mainly for his love of Spring/Summer contests. Aside from being a regular contributor in the
Contest Stats and Discussion
topic for over four years now, he has had quite a few noteworthy contest achievements. They include:
5th place in the Best. Game. Ever. Contest (2004)
4th place in the Got Villains? Contest (2005)
3rd place in Character Battle VIII (2010)
23rd place in Character Battle IV (2005)
Spring 2005 Guru Contest Champion
Summer 2005 Prediction Percentage Challenge Champion
In addition to his zest for GameFAQs' fantastic contests, Yoblazer also enjoys the quirky social aspects of Board 8. He has a few very good friends on the board, but due to his natural disdain for name-dropping, their identities shall remain a mystery. He often participates in user contests and random discussions, but makes it a point never to take anything too seriously. Yoblazer will likely continue to be a Board 8 regular until it is no longer fun for him, something he hopes won't happen for a good while.
Since 2006, Yoblazer has taken an even more active roll within the Contest Stats community, having joined the Contest Analysis Crew before the Series Contest. As a member, he writes a match analysis before every contest poll, something he enjoys somethin' fierce.
Also in 2006, Yoblazer made what many consider to be the biggest bet of the Series Contest, when he put up his main account (yoblazer33) against Sir Chris, putting his hopes in Mario Kart in the debated Mega Man vs. Mario Kart match. Unfortunately for him, Mega Man came out on top (and in humiliatingly easy fashion, no less), causing Yo to close his account. Since then, he has been posting with his "YoAriel33" account, simultaneously capturing his GameFAQs roots and his love of Ariel (aka the Little Mermaid) in one scintillating package!
Since then, Yo has remained just as active on Board 8, and has began a couple of popular projects, including Finding the Average Board 8er in 2007 as well as the Board 8 Brawl League and Rank This Crap in 2008.
Yoblazer is also one hell of a Yu-Gi-Oh duelist, having many memorable matches with Sir Chris.
"Yoblazer is utter pwnage in sexy form! ^_^" ~ Wigs
See Also
Edit
External Links
Edit